Srikumar Rao, Ph.D., discusses the way to tap into the happiness that already exists within each individual
In his recent
TED talk
, Srikumar S. Rao., Ph.D., discusses the ways that individuals are able to tap into what he terms "hard-wired happiness". Rao's uplifting discussion focuses on investing in the process of life, not the outcome. By investing in the process, happiness can be realized by anyone, at any point in their lives.
In his inspiring talk, Rao suggests that each person, no matter who they are or where they come from, is hard-wired to be happy. Each person in the world has a passion, a drive, existing within them, but so many people are focused on the "how" of being happy that they do not realize that they already are. He also states that everyone, without meaning to, can buy into the "Mental Model", the ways of thinking that are ultimately detrimental to them, and by doing so, they are unaware that their lives are already wonderful.
Rao has a name for this type of thinking: he calls it the "if/then model". Defining that model as each person thinking "If only this were to happen – then I'd be happy", Professor Rao outlines the powerful tools each person can utilize to move beyond that model and find the happiness that already exists in their lives.
In addition, Dr. Rao also encourages individuals to "focus on the Universe as it is". He asks each person to think of a time that they were purely, freely, and innocently happy, and then reminds them that in each instance that they recall, they had simply accepted the Universe as it was, not how they thought it ought to be. Rao suggests that by adopting this mindset in everyday life, the focus will then be on the process, not the outcome, and each person can then take the journeys in life that will matter to them the most with the knowledge that they have already achieved happiness.
To the inimitable Professor Rao, happiness is not a goal, it is a reality.
Srikumar S. Rao, Ph.D.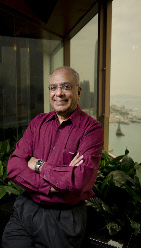 Dr. Rao received his Ph.D. in Marketing from the Graduate School of Business, Columbia University. He has been a contributing editor for
Forbes
and writes regularly on management practices, leadership and about the impact of technology on business processes. He also has written for other national magazines such as
Inc., Business 2.0, Hemispheres, Beyond Computing
and
Training
and was a contributing editor for both
Financial World
and
Success
. He is a member of the American Society of Journalists and Authors.
Dr. Rao was an executive with Warner Communications, Continental Group, Data Resources and McGraw-Hill and has consulted with such companies as RCA, Reuters, Citicorp, GTE, Pan Am and Diner's Club. He has been a seminar leader with the Institute for Management Studies and the American Management Association.
Dr. Rao has regularly taught at top business schools including Columbia Business School, London Business School, the Kellogg School of Management at Northwestern University and the Haas School of Business at the University of California at Berkeley. He has served as a marketing advisor to the national board of MENSA.
Find this TED talk at
http://www.ted.com/talks/lang/en/srikumar_rao_plug_into_your_hard_wired_happiness.html
For more information, please visit
www.areyoureadytosucceed.com
.
Follow Dr. Rao on Twitter @
SrikumarSRao
.
###
For media inquiries or to request an interview, please contact:
Email:
srikumarsrao@gmail.com
Phone: 631.864.3146
Fax: 631.864.3143
Address: 25 Shirley Court, Commack, New York 11725