Dr. Srikumar S. Rao, whose creative and personal mastery courses have caught the attention of everyone from 'The New York Times' to 'Time' to 'The Wall Street Journal' to 'The London Times', shares five ways to be happy at any job
Dr. Srikumar S. Rao, the author of
Happiness at Work
(McGraw-Hill) and
Are You Ready to Succeed? Unconventional Strategies to Achieving Personal Mastery in Business and Life
(Hyperion) has been challenging the notion that work and misery go hand in hand for years. His Creative and Personal Mastery Course has become wildly popular among MBAs, teaching them how to be happy both in business and in life.
His advice is timely, as more and more people are relegated to jobs that they find less-than-satisfying, feeling as though they ought to be grateful in a time when unemployment is high and how the upcoming election will change the job market. More than ever, people feel stuck and feel as though being miserable at work is a fact of life.
Although it may sound impossible to be happy at any job, no matter how ordinary it is, Rao offers some insight into how anyone can cultivate happiness for themselves in the workplace:
Start focusing on the process, rather than the outcome.
"By all means, work toward a goal, but stop fretting about outcomes. They're beyond your control anyway. Invest in the process, not the outcome. Accept the outcome, whatever it is, as joyfully as you can. This becomes a new starting point for you."
Realize that passion comes from you, not from your job

.
"Here is an immutable truth for you to ponder: Passion does not exist in the job. It exists in you—and if you cannot ignite it within yourself right where you are now, you will never find it outside yourself."
Stop Labeling Events as "Good" or "Bad".
Trying to "think positive" when a "bad thing" happens can be exhausting; "This takes energy and causes tension. It creates a tiny bit of stress, even as it dissipates the much larger stress caused by the 'bad thing.'" Dr. Rao asks, "But what if no 'bad thing' happens to you because you refuse to use that label? You no longer have to put a positive spin on whatever life gives you."
Realize that You Are Playing a Role

.
No matter what your title is at work, think of it as a role you play, whether that role is CEO or intern; "…as long as you clearly recognize that you're playing Top of FormBottom of Formthat role, you're just fine." When you feel as though you are stuck, "you can set yourself free by recognizing that you're merely playing a role that you have identified with and shift your focus to who you really are."
Know How to Let Things Go

.
Dr. Rao reminds readers that as babies, they did not carry burdensome events and emotions with them; "Babies know how to let things go. When they are angry, they are angry. When they are sad, they are sad. When they are finished playing with a toy, they are done with it. They don't carry anything around. Each thing that happens to them is something new to be experienced in the moment." At work, we often carry past experiences with an unpleasant client or colleague with us, allowing the past to taint the present. Instead of going into an interaction expecting it to be unpleasant, "Expect that it will be delightful, and if it isn't, then let it go. Don't carry it over to the next time you meet."
Happiness at Work
interweaves insights and lessons with anecdotes, personal stories, exercises, and humor, making Dr. Rao's advice both accessible and applicable. He not only helps readers learn how to be happy at work, it also teaches them how to be happy in life, returning them to the "halcyon days of your youth when you thought McDonald's was a four-star restaurant, when you preferred nickels to dimes because they were bigger, and when snow was an amazing experience and not a bother to be shoveled away."
Dr. Rao's Creative and Personal Mastery Course
Dr. Rao conceived the pioneering course Creativity and Personal Mastery. This is the only business school course that has its own alumni association and it has been extensively covered in the media including the
New York Times
,
the
Wall Street Journal
,
the
London Times
,
the
Independent
, Time,
the
Financial Times,
Fortune
,
Forbes
,
the
Guardian
,
Business Week
,
and dozens of other publications.
He has conducted workshops attended by and spoken before executives of Microsoft, Google, Morgan Stanley, American Express, Chubb, IBM, United Airlines, Allstate, Johnson & Johnson, Goldman Sachs, and dozens of others.
For more information, please visit
http://www.cpminstitute.com/
.
View his video,
http://www.ted.com/talks/srikumar_rao_plug_into_your_hard_wired_happiness.html
Srikumar S. Rao, Ph.D.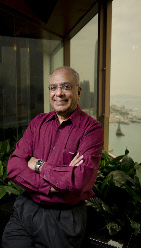 Dr. Rao received his Ph.D. in Marketing from the Graduate School of Business, Columbia University. He has been a contributing editor for
Forbes
and writes regularly on management practices, leadership and about the impact of technology on business processes. He also has written for other national magazines such as
Inc., Business 2.0, Hemispheres, Beyond Computing
and
Training
and was a contributing editor for both
Financial World
and
Success
. He is a member of the American Society of Journalists and Authors.
Dr. Rao was an executive with Warner Communications, Continental Group, Data Resources and McGraw-Hill and has consulted with such companies as RCA, Reuters, Citicorp, GTE, Pan Am and Diner's Club. He has been a seminar leader with the Institute for Management Studies and the American Management Association.
Dr. Rao has regularly taught at top business schools including Columbia Business School, London Business School, the Kellogg School of Management at Northwestern University and the Haas School of Business at the University of California at Berkeley. He has served as a marketing advisor to the national board of MENSA.
Follow Dr. Rao on Twitter @
SrikumarSRao
.
###
For media inquiries or to request an interview or review copy, please contact:
Publicist
Email:
authornewswire@gmail.com