Deborah Bryon's 'Lessons of the Inca Shamans: Piercing the Veil' gives readers insight into a fascinating journey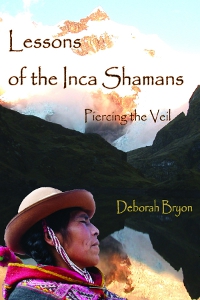 Author Deborah Bryon, Ph.D., takes readers on a journey through both understanding and transcendence in her book,
Lessons of the Inca Shamans: Piercing the Veil
. Vividly told and richly detailed,
Lessons of the Inca Shamans
are recollections of the author's own experiences with the Q'ero shamans in Peru.
This first-hand account describes Bryon's four years of initiations into the rites of the shamans, and her struggle to integrate what she learned with her everyday life back in the Western world. On the condition that she would share her newfound knowledge with others, she challenged herself to reach beyond her own limits and learn what she could about the wise and mysterious ways of the shaman.
Chronicling her journey and her extraordinary quest to find more meaning in life, Bryon manages to seamlessly interweave the things she was taught in Peru with her wonderfully clever, self-deprecating humor, her experience as a Jungian analyst, and the myriad ways in which she discovered she could integrate what she learned with how she lived. In addition, she analyzes her experience with Jungian insight, providing an interesting dichotomy of science and spirituality.
The central theme to what the shamans wished her to pass on focuses on the interconnectedness of all things, both physical and spiritual, and the unbreakable connection that human beings have with the Earth. Throughout the book, Bryon provides suggestions and exercises for the reader, encouraging them to work the lessons of the shamans into their own lives.
Richly told and stunningly moving,
Lessons of the Inca Shamans
is a fascinating glimpse into a world that most people will never have the amazing fortune to see. A perfect read for anyone who is on a spiritual journey of their own, Bryon's account of her profound experience is both engaging and enlightening.
Deborah Bryon
Deborah Bryon, Ph.D. is a Jungian analyst in Denver, Colorado. Since 2005, she has received in-depth training with Q'ero shamans in Peru. She has undergone a series of sacred initiations with the shamans she has worked with, and now teaches classes, writes, and leads groups that combine Jungian depth psychology, psychoanalysis, and shamanism. She lives with her husband, Perry, two dogs, a cat, and a macaw in Colorado.
For more information, please visit
www.lessonsoftheincashamans.com

Read Deborah Bryon's blog at
http://lessonsoftheincashamans.com/blog/
For media inquiries or to request a review copy, please contact:
Deborah Bryon
highglo@aol.com